Custom coil cable manuf-Curly cable spiral
As an experienced cable manuf and custom Coiling cables specialist, we have been help customers custom coil cable from different field, such as consumer electronics, office supplies, and specific fields…
In most situations is also called spring cable, spring wire or spring cord.  Spring cable has good retractability . Coil cable sometimes is formed by external force, such as "Magnetic Coil Cable" later mentioned in this article,its self coiling ability is because of the small magnetic rings wrapped .
In this passage,we would like share with you what we have experienced and what customer cares during the cooperation and the custom manufacturing of these coiling extension cable.
Custom Coil cables length
People use coil cables mainly because of flex length, space saving and easy storage. Length resilience and extensibility of a curly cable is its attractive highlight, also a key factor we need to consider when we want to custom coil cables, so we put this point at the beginning.
Calculation formula of Extension length of coiled extension cord is :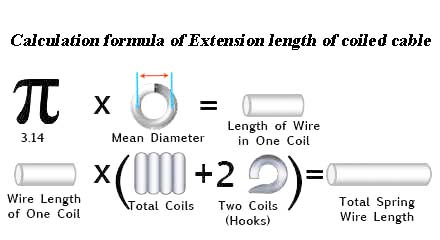 Coiling cables length calculation formula
L=πD (N + 2)+L1+L2
D = Mean Diameter (Outer Diameter + Inner Diameter)/2

N = Total Coils

L=Total Length

L1=left length at one end

L2=left length at the other end
Custom Retractable Coil Cord And Reverse Coil Cables
A typical custom coiling cables manufacturing including 4 key procedures:
Make a right metal bar according to the custom coil cord 
 coiling the prepared cable (usually TPU or TPV jacket)
heat to shape it
reverse  the coiling cable so as to enhance its retractability
Cores &Conductors &Jacket
According to the cases or projects we have made, following specifications are the main stream, the
cores/wire(some customer also describe as conductor, such as 6 conductor coiled cord) are almost less than 8 core.
l  1 core single conductor coiled wire( usually it is electronic cable)
l  2 wire coiled cord (this is a widely used curly cable, in many fields, such as phone cable (which is usually called rj12 coiled cable with 4 core, but 2 cores is enough for an analog telephone, audio cable, coiled power cord )
l  4 core coiled cable (e.g rj12 coiled cable, curly phone cord, coil charging cable)
l  5 core coiled cable (such as coiled iphone cable, fetal Doppler cord…)
l  6 core  and 7 core are ralatively less used;
l  8 core coiled cable(a typical example is rj45 coiled cable, but for coil Ethernet cable,8 core is not an necessary, some customers also asked us to customized 4 core with RJ45 connector, just as some customer custom 2 core with
rj12 connector)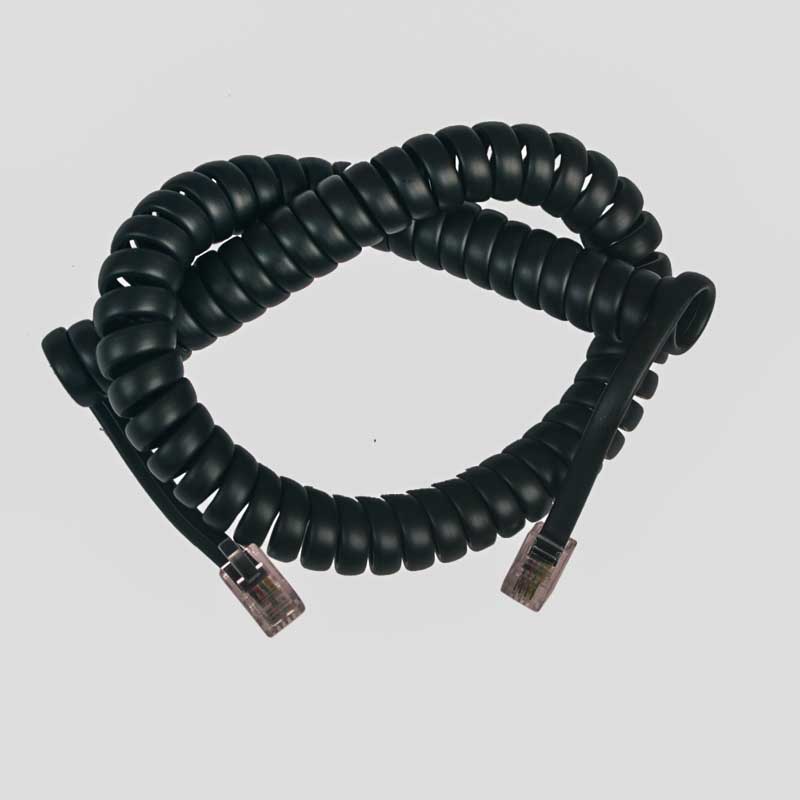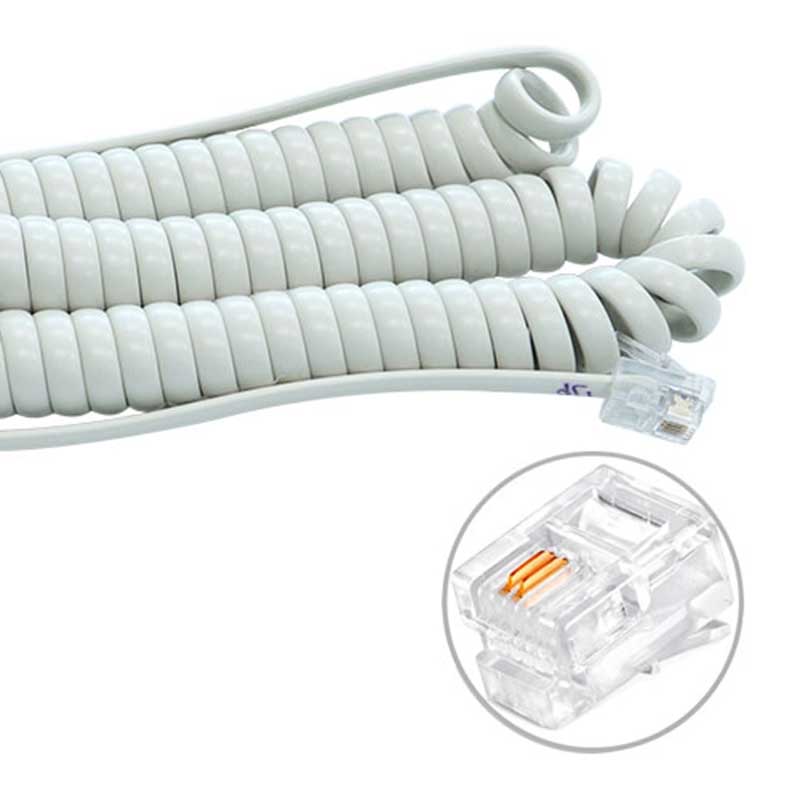 Rj11 curly phone cord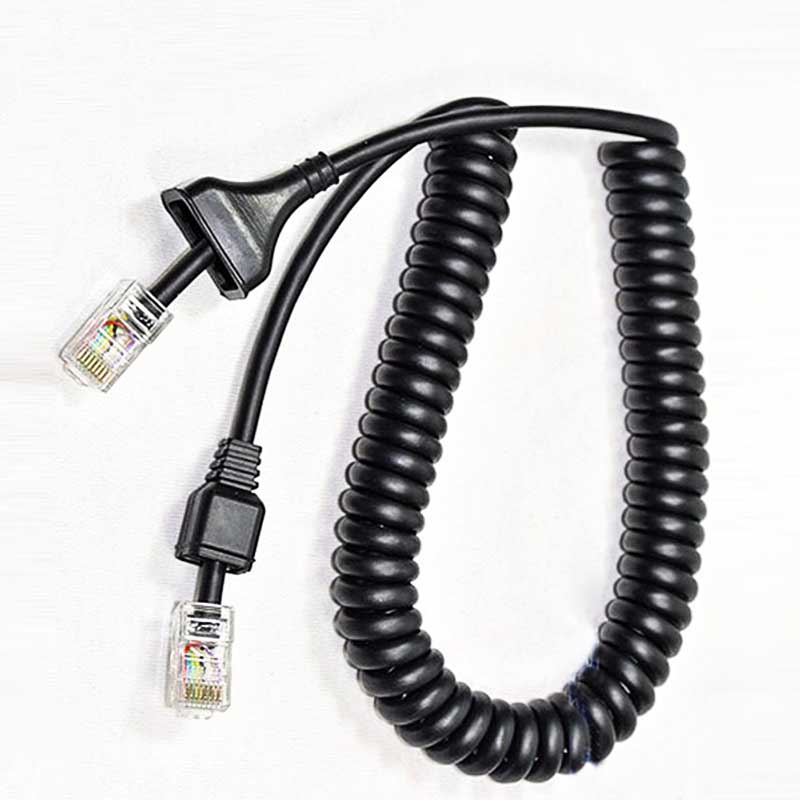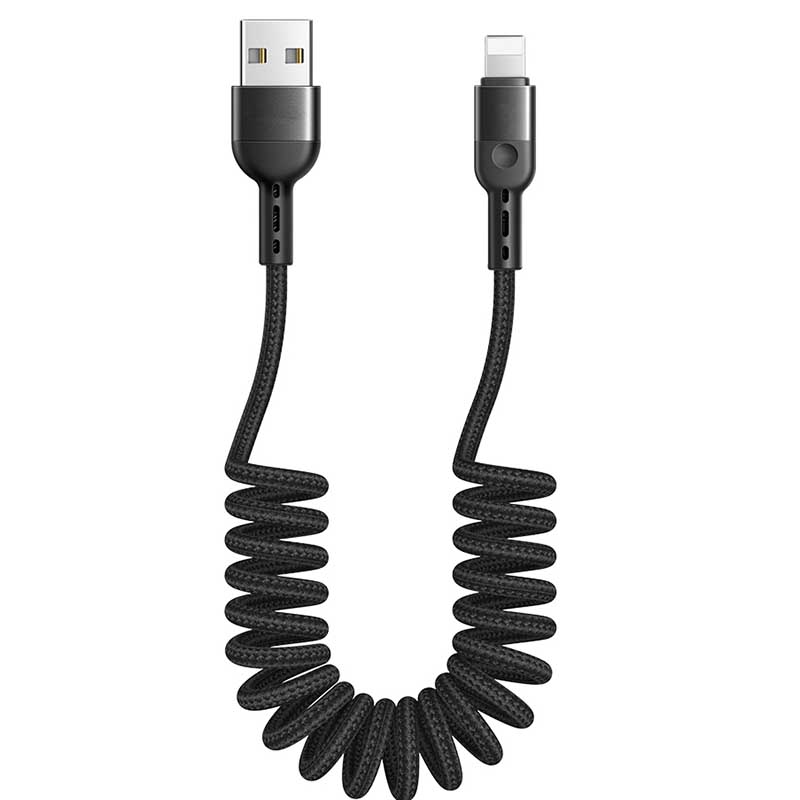 coiled iphone cable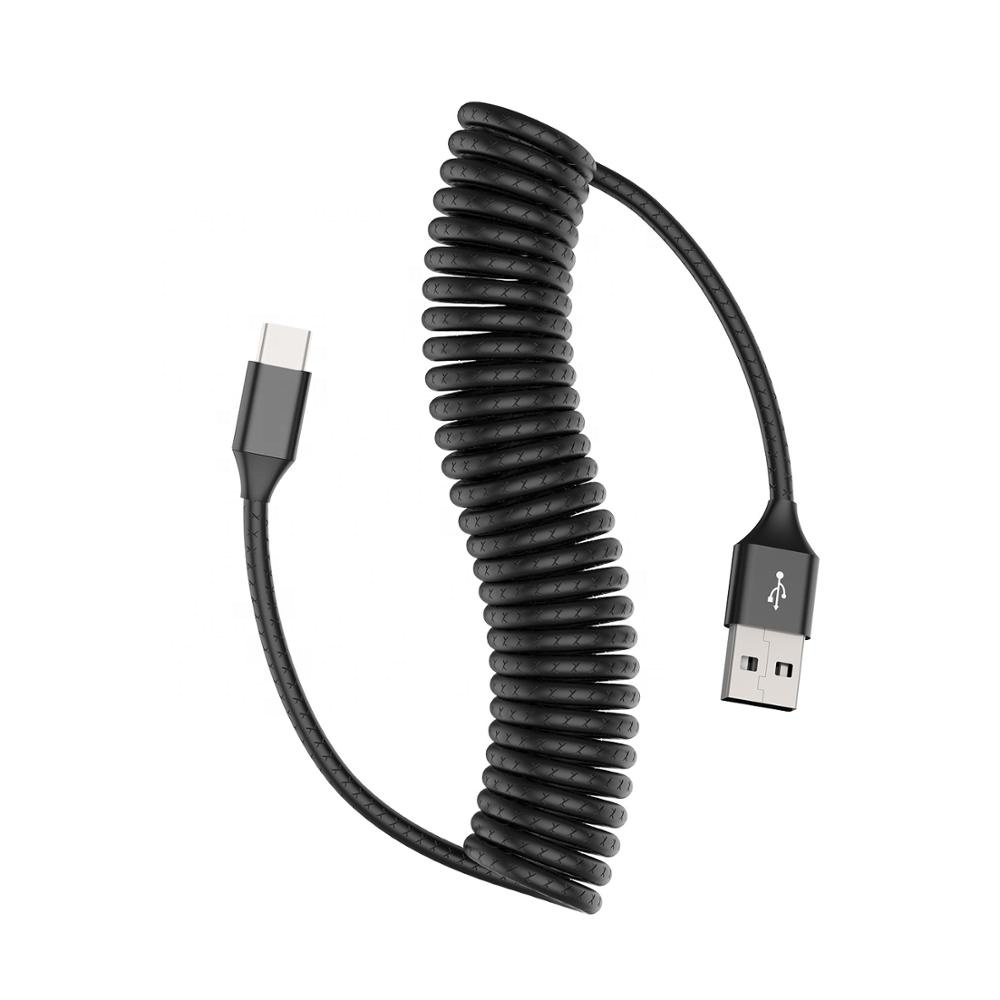 custom coiled usb c cable
There are also coiled extension cord with more cores, but its market share is not big ,or they are not compliant with Industry standard, such as spiral hdmi cable(a standard HDMI Cable is with 19 pins, and data transfer speed is 5Gbps), custom coiled usb c cable(Type C has different versions ,different version has different cores, such as Type C cable with USB 3.1 standard has 12 pair (24 cores),for type C  ,it need 5 cores at least.  )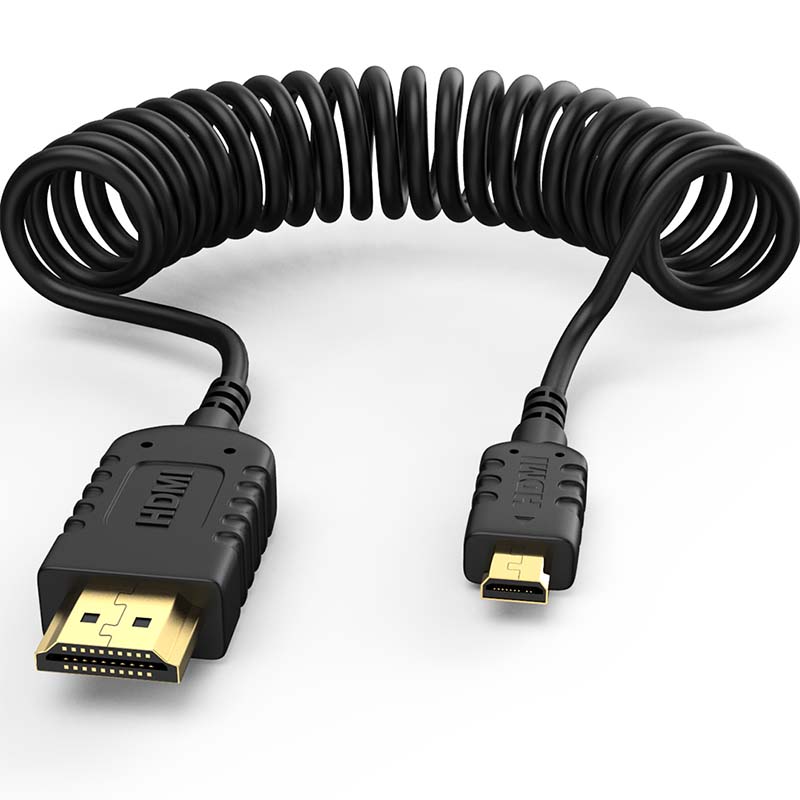 spiral hdmi cable to Micro
The material for Jacket of retractable coil cable usually has following features:
Good elasticity: for curly flex cable, especially low voltage coiled electrical wire, their conductors are usually tiny copper wires, such as 0.07mm or even 0.05mm copper wire, and they are very soft. The resilience and extensibility is depended by Jacket material. reverse coil cable (which is a processing of making coiling cables) also demand the jacket to have good elasticity
Reasonable hardness: the stronger the jacket material hardness is, the better the resilience is;
Good heat resistance: during the processing of coiling cables,there is a step to heat the coiled cable in athermostatic chamber with temperature around 150 degrees(depends on the jacket materials)
If you prefer a DIY life, every cable in your life can be a DIY coiling cable, you do not need professional skills, a round stick with suitable diameter and a heating dryer will be enough for you. However in most situation, you do not need to DIY it at the risk of breaking your straight cable, they are already used in every aspects in our daily life and specific fields too, it is easy for you easy to access them
Medical is always related with Urgency and emergency. Precaution and preparation is very important to deal with those urgency, such as a heart arrest, in this situation, if there is a Defibrillator around, the patient can be given first aid, survival probability increased a lot. In Many public place, such as airport, bus station, train station or even department store, there are equipped with Defibrillator (AED: automated external defibrillator).The curly power cord of the AED(not only power, but also with signal wire for heart monitoring) usually has straight length 3-5 meters,in ICU,the length maybe 8-9 meters. With a reasonable Coiling diameter, the AED cable can be compressed to around 40-60 CM, which will be suitable for stocking in a limited space.
Doppler cord is another common seen medical coiled cord, no matter is for baby heart monitoring or sonotrax vascular Doppler.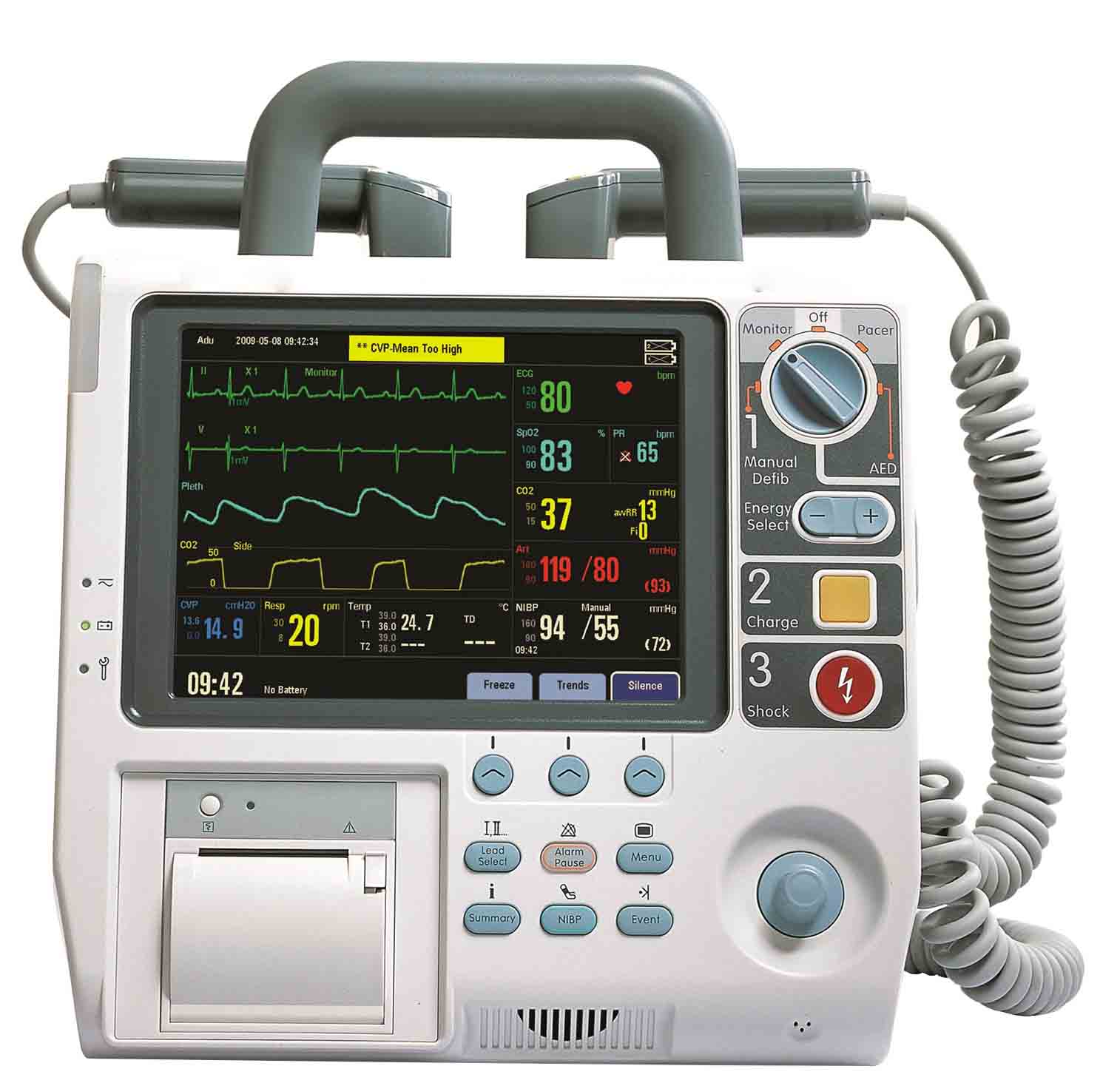 AED cable usually has 1 or 2 high voltage wire (17AWG-22AWG),and 4-7 signal wire,depends on the AED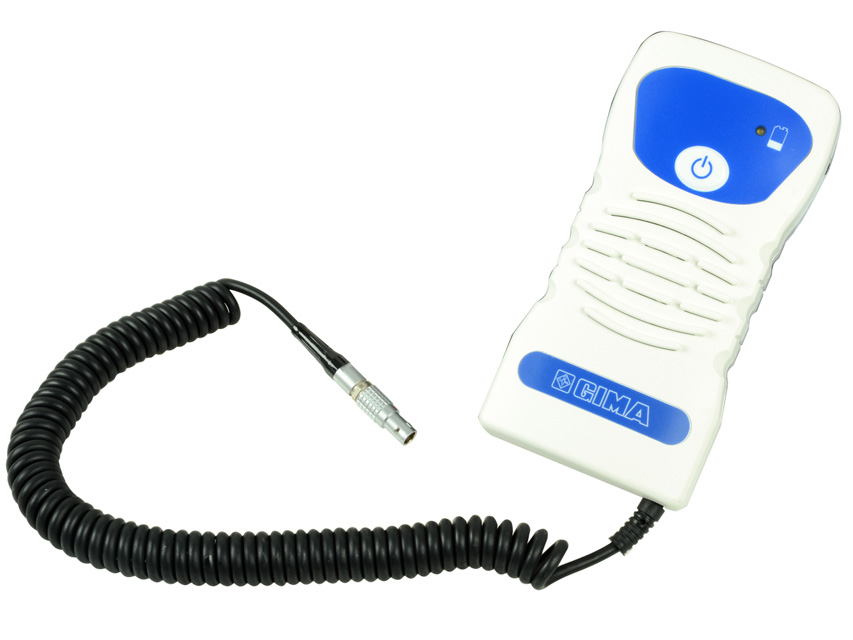 Different Hz doppler should custom different spec cable.For some baby fetal doppler hearbeat listening,some factory use very common cable,
If you even visit CES(Consumer Electronics Show)in Las Vegas or any other consumer electronic shows, you will find many items with coiled cable, such as "coiled guitar cable, coiled cable keyboard, coiled usb c cable, coiled 3.5 mm audio cable, coiled microphone cable, handset phone cord, coiled iphone charging cable…
For most office staff, especially customer service guys, there are many self-coiling stuff around you: spiral phone cord (rj12 coiled cable), Ethernet cable coil (rj45 coiled cable), coiled telephone handset cord.
A retractile power cords is used in some working situation, where the worker may need to go forward and back continuously, or the work space is very narrow or not convenient to move flexibly. Such as a barber with a traditional hair cutter or hair dryer. Nowadays most hair cutter are using battery.
Magnetic

Special self coiling cable-
Not every cable can DIY to a coiling style as we wish, or perform as we wish. Some items need to compliant with its industry standard first, then consider innovation in appearance.
Magnetic cable is a typical cable for this case. Magnetic coil charging cable (type C,or MFi lightning cable).This cable are features as Big diameter coil,standard cable diameter,meet USB standard.beautiful ppearance;easy to collect,can be layout to different shape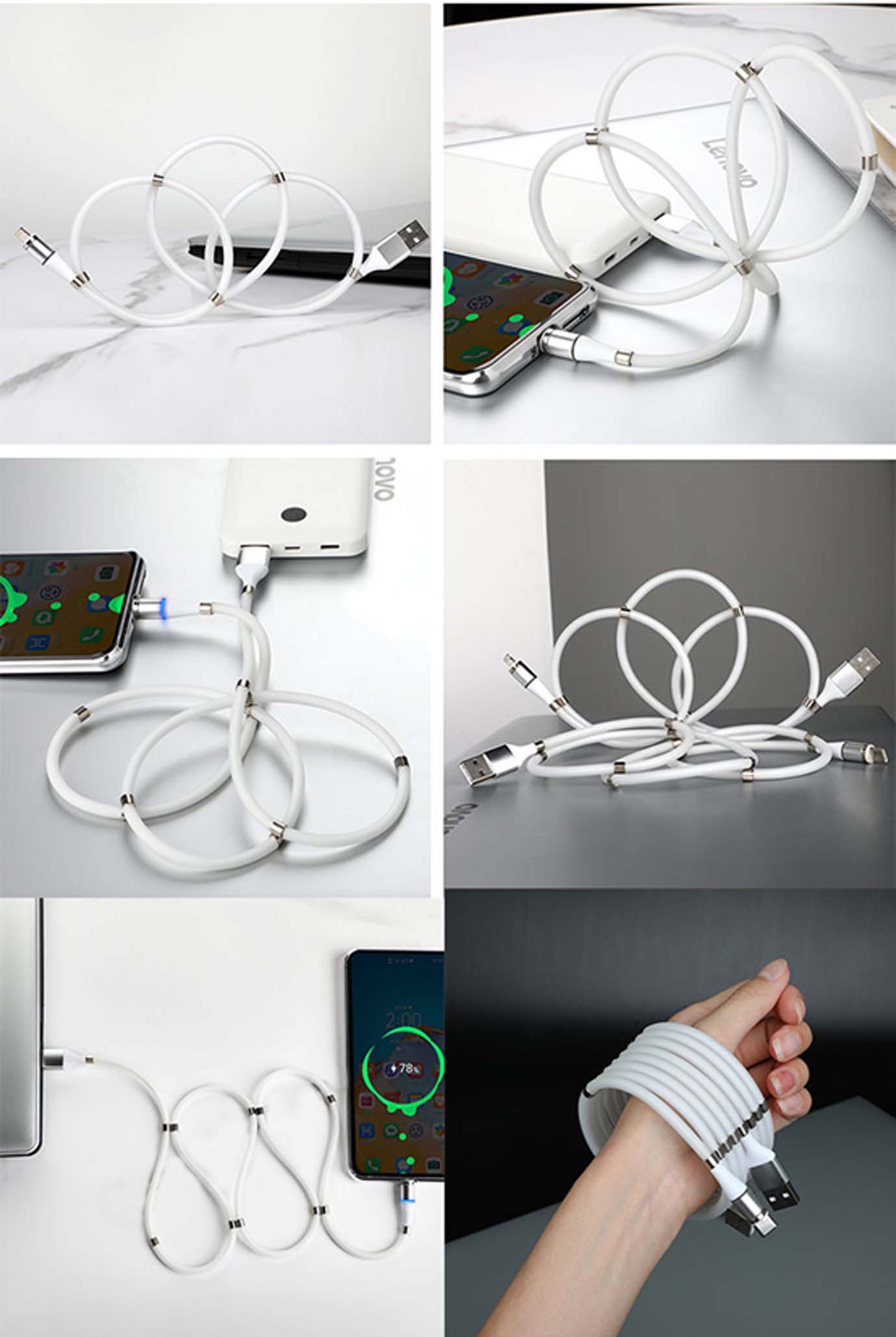 Note
Magnetic iphone cable can not use replacable magnetic connectors,otherwise it can not pass MFI certification(the 3 in 1 coil charging cable with Iphone connector is not MFI compliant cable)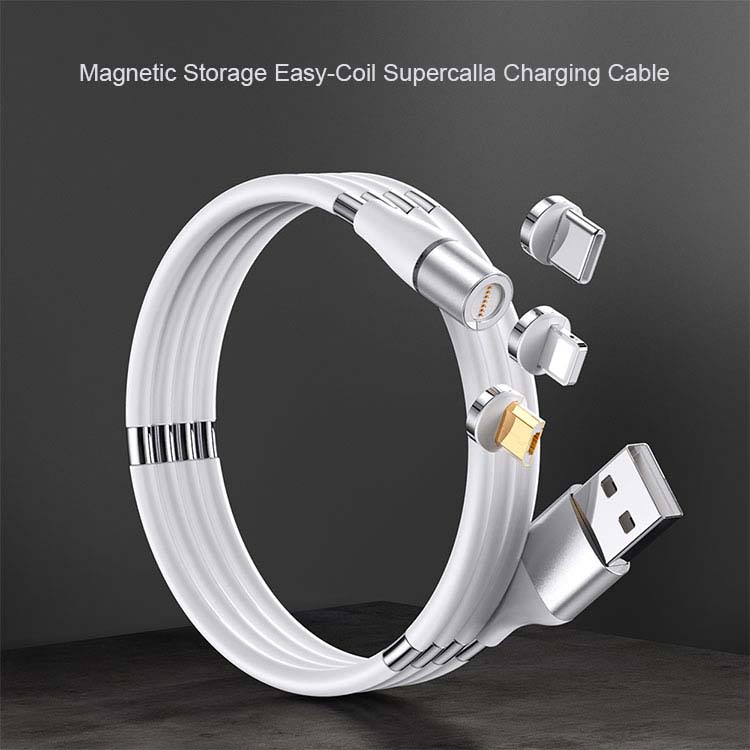 Disadvantage and solution
Visible and appreciable problem
They tangle more than straight cables. Try putting 20 of those in a box, moving house and leaving it six months, or imagine what a work cable cupboard might be like with 100 in not stored carefully. This means the user has more of a headache to extract and use the cable they require.
You can't wrap them up neatly like straight cables, making it more difficult for the user to store them.
Putting the cable through a hole, such as one that is often drilled by users into desks etc. becomes significantly more difficult
They are much more difficult to bunch, as you might with five or ten and some cable ties at a work station or in a studio
Coiled extension cord are in tension as soon as you stretch them beyond their at-rest state. This has two problems:
It puts strain on connectors. Connectors in this case are in danger of being pulled out of their sockets and can, if plugged in at an angle to the direction of the cable in tension, put strain on the socket.
Smaller devices will be pulled around by the cable in tension. External hard drives, small external audio devices, phones, tablets, etc: none are heavy enough to prevent the cable from pulling them around. This means that the cable is effective only at its at-rest state, rendering the benefits of the coil moot.
What you really want is either just shorter cables or a retractable device on the cable .These devices let you set the length you want without the tension problems outlined above.
Coiled cable in intended for a moving working environment. Where there is motion, there will be turboelectric noise, which will bring interference or noise to your application. For common use, it maybe ignored.in some situation, such as an aged coiled guitar cable or audio cable, when you stretch the cable, you may hear a lot of noise. In Medical application or physical lab, some situation even need Noise value less than 50uv or less. Low Noise cable are widely used in these filed.
To the visible problems mentioned above, there is no very practical solutions for them. Every coin has two sides, we make use of the beneficial side of them to the most.
To the invisible problem mentioned, to improve the structure of the cable itself it the best way, such as "using proper insulation material for the cores to decrease friction between insulation layer and jacket; using low noise layer; using each core separate shielding structure…, in short, make the cable itself a Low Noise cable
want to Custom coil cable? Leave us your requirement!